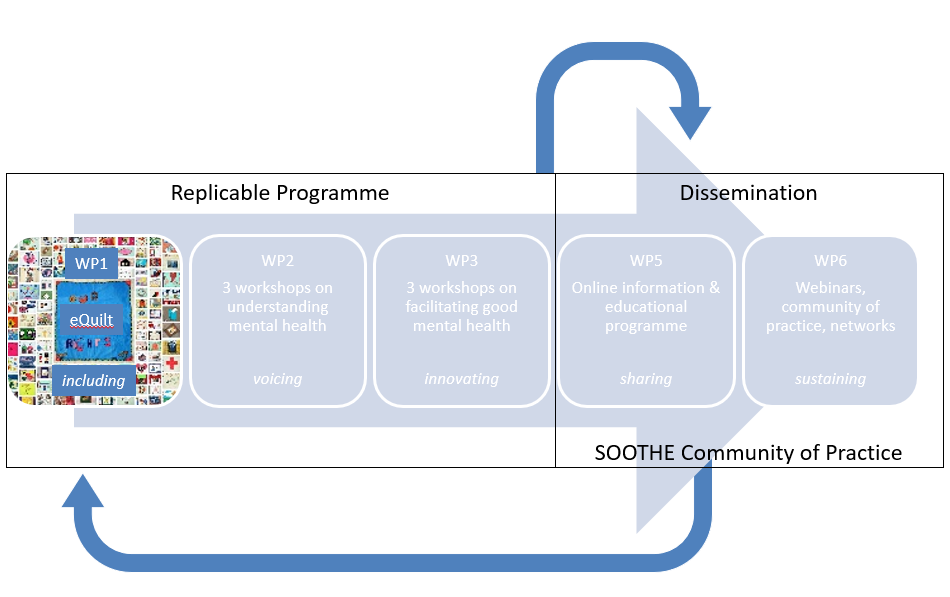 The eQuilt is an electronic patchwork quite. Quilting is an activity which was historically popular between women. It served as a community-building process, whereby individuals contributed individual units (square or hexagon shapes, for example), which could be sewed together, creating a textile bed-covering. The activity developed into one whereby each quilt unit represented something important for the person who made it. This was the basis for some of the quilts that were produced at the height of HIV-AIDS, with quilts being used to commemorate individuals who had died.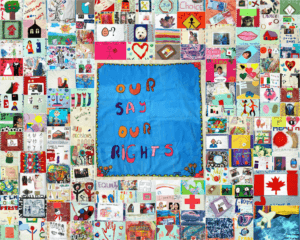 In 2011, the IDRights group, based at Trinity College Dublin's School of Nursing & Midwifery, used a quilt approach to support voices of people with intellectual disability to be heard. In this quilt, 'The Our Say, Our Rights Quilt', more than 140 people from across Ireland contributed their perspectives on what rights were important in their lives. Such were the dimensions of the combined quilt squares, that it was decided that they would be photographed and combined in a collage. This was the first electronic quilt to our knowledge and was included in the book Quilts and Human Rights (MacDowell et al. 2016)
SOOTHE employed a similar approach to supporting the voices of people with intellectual disabilities in respect of their understandings of mental health and wellbeing. The launch of the activity coincided with the Mental Health Arts and Culture Festival, FirstFortnight Europe. In doing so, it sought to enable conversations on mental health to be conducted between people with intellectual disability and their carers/families/friends across Europe.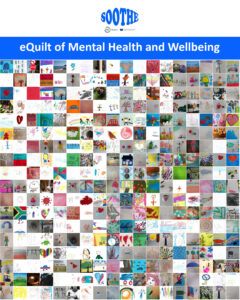 It sought to achieve this through the co-creation of  photographed images of 30cm x 30cm painting/collage/textile squares, representing mental health and wellbeing. These were then uploaded via the SOOTHE website, with accessible information and consent processes built in. Furthermore, submitters were asked to include some text-based narrative on the meaning of the picture to the person who created it. This was done to ensure that the meaning was theirs and not one developed by the researchers. The received quilt square images and associated text were examined for meaning, and images were grouped according to apparent overarching themes. The results can be seen in the images to the right.